Delaware's Species & Spectacles
Migrant Songbirds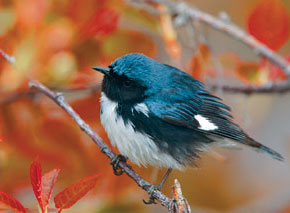 There's nothing quite like peak migration periods for exciting, surprising birding. In spring, if you're after more southern, "swamp" warblers, then late April and early May are best. Species headed for the forests of New England and Canada are most numerous in early to mid-May. In the fall, late August through mid-September sees the greatest diversity of species on the move, but October and early November can see excellent flights of sparrows, plus large numbers of American Robins, Northern Flickers, and Yellow-­­rumped Warblers. Favorite locations for finding migrant songbirds include White Clay Creek, Brandywine Creek, Fort DuPont, and Delaware Seashore State Parks (especially Burtons Island), Bombay Hook and Prime Hook.
Breeding Songbirds
Many of Delaware's best birding sites are clustered along its coast, but its most extensive forests are farther inland. Beginning in late March, these woodlands echo with bird songs. More voices join the chorus through April and into May. Nestlings are fed and fledged through June into July, when many species prepare to migrate. Places like Trap Pond State Park, Redden State Forest, Nanticoke Wildlife Area, the Great Cypress Swamp, White Clay Creek State Park, and Brandywine Creek State Park all feature especially fine aggregations of breeding birds.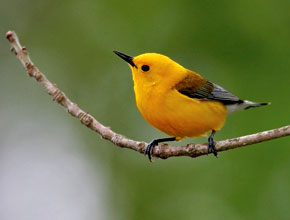 Geese and Freshwater Ducks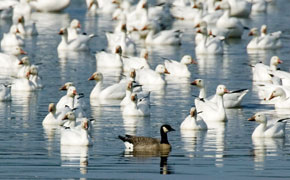 Beginning in October, and continuing through the year's end, amazing concentrations of geese and a host of freshwater duck species can be seen at various points along the River and Bay coasts. Best viewing locations include Bombay Hook, Prime Hook, and Woodland Beach Wildlife Area. Numbers may diminish somewhat during mid-winter, especially if there is significant ice cover, but rise again in February and early March, as birds return from farther south. Watching tens of thousands of sparkling white Snow Geese spilling from a darkening blue sky into the marshes near Bombay Hook's Shearness Pool, the whole scene bathed in glowing, golden-orange by the low autumn sun, is a sight not soon forgotten.
Next
:
Bay and Sea Ducks, Loons, Grebes and Brant,
Large Waders: Herons, Egrets and Ibis, Hawk Migration
Back to Previous Page