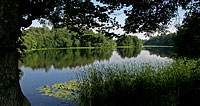 3 miles SW of Milford (302) 422-0847
Managed by:
Delaware Nature Society
Set on the shore of a small pristine mill pond, this site is the nexus of an expanding network of walking and paddling trails and is good for woodland birds at any season. Resident species include Barred Owl and Pileated Woodpecker; summer brings breeding Prothonotary and other warblers.
Start by taking the short loop trail that begins just north of the nature center, then returns to the mill along Johnson Branch. The small nature center, operated by the Delaware Nature Society, maintains a fine collection of live specimens of native reptiles, amphibians, and fish. The restored mill is a scenic attraction and may be available for tours; call ahead to enquire.
Directions to Abbott's Mill Nature Center
:
(38°53'11.76"N 75°28'35.36"W) From the intersection of US 113 and Route 36 (Shawnee Road) southwest of Milford, take Route 36 west for 1.8 miles, turning right (N) on Abbott's Pond Road (Road 620). After 0.6 mile, the road crosses the dam between the pond and the old mill; turn right into the driveway immediately thereafter.
Other Birding Sites in the Forests & Farmland Region: