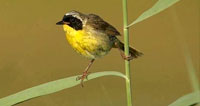 7 miles S of Newark (302) 368-6989
Managed by: Delaware State Parks
Lums Pond State Park covers nearly 1800 acres, just north of the Chesapeake & Delaware Canal. The extensive network of walking trails around the pond is productive not only for forest birds, but also for field and edge species. For those not up for the full 7.5 miles Swamp Forest Trail, which circles the entire pond, try walking portions of the trail around the pond's northwest arm, accessed from the Whale Wallow Nature Center.
The section of the Swamp Forest Trail around the northeast extension of the pond, near the dog training area, is also worthwhile and features expanses of field and thicket habitats.
Directions for Lum's Pond State Park
:
From the intersection of Route 896 and US 40 at Glasgow, south of Newark, go south on Route 896 for 2.6 miles to Howell School Road. Turn right (E) onto Howell School Road and go 0.4 mile to the park entrance. The Whale Wallow Nature Center (39°33'47.25"N 75°43'46.87"W) is located 0.6 mile down the park road, on the left (W). For the dog training area (39°34'7.36"N 75°42'32.19"W), continue west on Howell School Road past the main park entrance another 1.3 miles, then take a sharp right turn (SW) onto Buck Jersey Road. Go 0.3 mile down Buck Jersey Road; the dog training area parking lot is to the right (E).
Other Birding Sites in the Forests & Farmland Region: