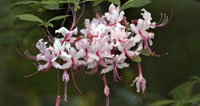 4 miles NE of Harrington (302) 284-4526
Managed by: Delaware State Parks
Killen's Pond State Park features a brand new nature center and the Pondside Nature Trail, a 3.2-mile footpath through the forest encircling a 66-acre millpond. Boat rentals are available in season for water-based explorations. Killens is a good place to find Prothonotary Warbler and a variety of other typically southern species.
Directions for Killens Pond State Park
:
(entrance at 38°59'24.62"N 75°32'42.72"W) From the intersection of US 13 & Route 14 in Harrington, take US 13 north 4.2 miles. Turn right (E) on Killen's Pond Road and go 1.2 miles to the park entrance, which is on the right (S) side of the road. The Pondside Nature Trail can be accessed from the parking lot at the end of the main park road.
Other Birding Sites in the Forests & Farmland Region: