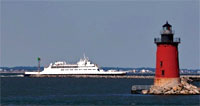 E edge of Lewes (302) 571-6409
Managed by: Delaware River & Bay Authority
Regularly scheduled ferry service offers a convenient access to Cape May, NJ and can be productive for seabirds including gulls, terns, Northern Gannets, loons, and scoters. While the 70-minute trip across the bay's mouth rarely yields shearwaters and other truly pelagic species,* Wilson's Storm-Petrels are frequent from June through August, and jaegers, mostly Parasitic, are regularly seen in spring and fall. The ferry can be taken one way or round trip, with your automobile or as a foot passenger.
Directions to the Cape May-Lewes Ferry:
(38°46'54.23"N 75° 7'3.54"W) Follow the ubiquitous blue and yellow signs for the ferry. From Route 1 southwest of Lewes, go northeast on US 9 (King's Highway), bearing right after 1.5 miles to stay on 9, then continuing another 1.5 miles to the "T" intersection with Cape Henlopen Drive. Turn right (E) on Cape Henlopen Drive; the terminal is 0.4 mile farther, on the left (N).
...........................................
*Offshore trips for viewing pelagic seabirds and whales are offered by private companies from time to time. Such trips are in no way associated with the Cape May-Lewes Ferry.
Other Birding Sites in the Ocean Beaches & Inland Bays Region: