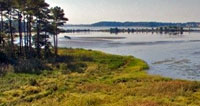 3 miles SW of Bethany Beach (302) 539-3160
Managed by: DE Div. of Fish & Wildlife
Tucked just inside Delaware's southeastern corner, Assawoman Wildlife Area is a quiet oasis amidst burgeoning beach communities. Given the refuge's bayside location, one might expect waterbirds to be the main attraction; however, the mix of loblolly pine forest and wildlife food crops is often excellent for landbirds, too.The main road leads to Mulberry Landing, passing an observation tower which is worth the climb. In summer, flocks of Black Skimmers forage here, and egrets may blanket the area in white. Check the wooded edges in this area for landbirds, too, including Brown-headed Nuthatches. There is a photography blind located at Mulberry Landing. Side roads to Strawberry Landing and Sassafras Landing are also rewarding. It's easy to spend half a day here at any season.
Directions for Assawoman Wildlife Area
:
(entrance at 38°29'53.96"N 75° 5'48.85"W) From Route 1 in Bethany Beach, go west on Route 26 0.1 mile. Turn left (S) onto Kent Ave and follow it 1.4 miles. Just after the Assawoman Canal bridge, turn left (SW) onto Double Bridges Road. After 3.3 miles, turn left (SE) onto Camp Barnes Road. Follow Camp Barnes Road, bearing left at 0.6 mile, and continuing another 1.1 miles to the wildlife area entrance (Mulberry Landing Road), which is on the right (E). Follow signs to Mulberry Landing (38°29'8.73"N75° 4'38.54"W), Strawberry Landing (38°30'2.24"N 75° 4'45.47"W), and Sassafras Landing (38°29'59.17"N 75° 5'5.82"W).
Other Birding Sites in the Ocean Beaches & Inland Bays Region: