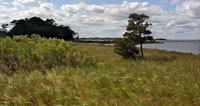 4.5 miles W of Bethany Beach (302) 226-8105
Managed by: Center for the Inland Bays
On the southeast shore of Indian River Bay, the James Farm is well situated to attract migrant and wintering species, and is a prime site for a birding walk at any season. From the parking area, trails lead through old fields, mature forest, and out to viewpoints over the bay and saltmarsh. Owned by Sussex County, the preserve is managed by the Center for the Inland Bays, who use it as an outdoor classroom in addition to managing it for biodiversity.
Directions for the James Farm Ecological Preserve
:
(38°34'29.54"N 75° 4'46.26"W) From the intersection of Routes 1 & 26 in Bethany Beach, go north on 1 for 1.2 miles, then turn left (W) on Fred Hudson Road, which ends in 1.3 miles at Cedar Neck Road (Road 357). Turn right (N) on Cedar Neck Road, and go another 1.3 miles. The parking lot for the James Farm is on the left (W).
Other Birding Sites in the Ocean Beaches & Inland Bays Region: