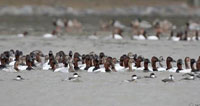 S side of Rehoboth Beach (302) 227-4641
Managed by: City of Rehoboth Beach
Silver Lake, a small pond nestled amongst the cottages of Rehoboth Beach, offers thrillingly close looks at a variety of wintering duck species, especially Canvasbacks. It is also the most reliable place in the state to find Redheads, one or two of which can often be picked out from the hundreds of Canvasbacks, Ruddy Ducks and Mallards. Lesser and Greater scaup also occur, along with a variety of gulls and other waterbirds.
Directions to Silver Lake
:
(38°42'25.69"N 75° 4'50.37"W) From the Route 1/Rehoboth Avenue split west of Rehoboth Beach, go south on Route 1 1.1 miles. Turn left (E) on Robinsons Drive, which ends at Silver Lake Drive after 0.3 mile. A good strategy is to park along Robinsons, then carefully cross Silver Lake Drive on foot.
Other Birding Sites in the Ocean Beaches & Inland Bays Region: