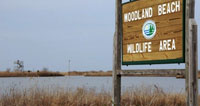 5 miles E of Smyrna (302) 284-1077
Managed by: Delaware Division of Fish & Wildlife
Taylor's Gut and nearby Florio Road, both part of Woodland Beach Wildlife Area, lie along Route 9, about 5 miles north of the entrance to Bombay Hook National Wildlife Refuge. From late October through mid-March, you may find the area teeming with Snow Geese and other waterfowl. Shorebirding is excellent when water levels are favorable.
Directions to Florio Road
:
(39°19'31.41"N 75°30'25.04"W - see map) Take Route 9 (Hay Point Landing Road) north from its intersection with Route 6 (Woodland Beach Road), east of Smyrna. In 0.9 mile, turn right (E) onto Florio Road, just before Route 9 makes a sharp bend to the left (E). This road goes about 0.5 mile, and overlooks several ponds and fields. The road itself is unmarked, but there is a large sign reading, "Woodland Beach Wildlife Area."
Directions to Taylor's Gut
:
(39°19'38.63"N 75°30'55.09"W) A good spot from which to scan Taylor's Gut is along the shoulder of Route 9 near a small culvert, 1.2 miles north of Route 6 (0.3 mile from the entrance to Florio Road).
Other Birding Sites in the Delaware Bay Coast Region: