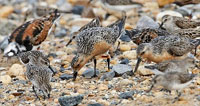 6 miles E of Milford (302) 422-1329
Managed by: Delaware Division of Fish & Wildlife
Slaughter Beach is typically the best place in Delaware to see Red Knots gorging on horseshoe crab eggs in spring, but that is only the tip of the iceberg. The DuPont Nature Center at Mispillion Reserve allows visitors to access a wealth of information about the horseshoe crab/shorebird phenomenon and observe it, simultaneously. As such, it is an ideal starting point for any visitor wanting to experience Delaware Bay's premier wildlife spectacle (see "
Species & Spectacles
" above).
Though the peak of shorebirds and horseshoe crabs is brief, the nature center and the area around it are worth a visit all year round. The gravel bars and shell reefs at the mouth of the Mispillion River are good places to find gulls, terns and American Oystercatchers. The marsh along Lighthouse Road, is thick with Clapper Rails and Seaside Sparrows, and may have Short-eared Owls in winter. Both Nelson's and Saltmarsh sharp-tailed sparrows are found here in season. . .
Click to Continue
Other Birding Sites in the Delaware Bay Coast Region: