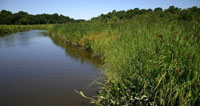 7 miles NE of Milford (302) 284-1077
Managed by: Delaware Division of Fish & Wildlife
Milford Neck is arguably Delaware's least-known great birding area. An excellent place to start exploring it is Big Stone Beach Road, specifically the two and a half mile stretch from Scott's Corners to Big Stone Beach, which winds past beautiful coastal forests, freshwater marshes, and out to the Delaware Bay. The marshlands anywhere east of Scott's Corners are excellent for rails including Virginia and Sora, possibly even Black, though seeing any of them is tough. Access is limited to the public roadways; please do not attempt to enter the marsh. Both Chuck-will's-widows and Whip-poor-wills are numerous and vocal in the woodlands during spring and summer. Check the pines for the last half mile or so before the beach-they are often attractive to migrants. The bayshore itself can be productive for ducks, gulls, and shorebirds.
Directions to Big Stone Beach:
(39° 0'2.11"N 75°19'42.05"W) From the convergence of Routes 1 & 113 just north of Milford, head north on Route 1 about 1.3 miles. Turn right (NE) at Thompsonville Road and go 3.5 miles. Turn right (E) onto Scotts Corner Road, arriving at Scott's Corners (38°59' 27.85" N 75°22'16.73"W) in 1.1 miles. Take a left (NE) onto Big Stone Beach Road. The road reaches the bayshore in another 2.6 miles.
Other Birding Sites in the Delaware Bay Coast Region: