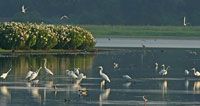 5 miles NE of Milton (302) 684-8419
Managed by: Delaware Division of Fish & Wildlife
Prime Hook National Wildlife Refuge easily ranks among the mid-Atlantic region's very finest birding spots, though it has never achieved quite the renown of its sister refuge, Bombay Hook, mostly because of Prime Hook's somewhat more confusing geographic layout. Though it takes a little while to orient oneself to the several access points, it's more than worth the effort.
Broadkill Beach Road slices across the southern portion of the refuge, and allows access to the headquarters area, with its expanding network of foot trails, and the very productive Broadkill Impoundment. Farther north, sections of Prime Hook Beach Road and Fowler Beach Road traverse diverse wetland habitats and also offer fantastic birding. It is easy to spend anywhere from a few hours to several days exploring Prime Hook.
At the headquarters area, take the Boardwalk Trail (a 1/2 mile loop) or the Dike Trail (1/2 mile out and 1/2 mile back), each of which can be covered in an hour or so and feature freshwater marsh and forest edge. Longer hikes for those so inclined can be easily pieced together here, too . . .
Click to Continue
Other Birding Sites in the Delaware Bay Coast Region: