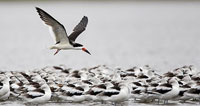 7.5 miles SE of Dover (302) 284-1077
Managed by: Delaware Division of Fish & Wildlife
The Logan Lane Tract is dependably productive for a fine variety of marsh and bayside birds and may produce less common species like American Avocet, Black Skimmer and Gull-billed Tern. North America's first Whiskered Tern spent several weeks here in 1993. There are three principal areas birders cover at the Logan Lane Tract: the north impoundment and the bayshore, both reached by the northern access road, and the south impoundment. Note that birding access to this area may at times be restricted during hunting seasons.
Directions to the Logan Lane Tract
:
From the intersection of Route 9 & US 113, just south of Dover, take Road 68 (Kitts Hummock Road) to the east. Turn right (S) at the brown sign reading, "Ted Harvey Conservation Area - Logan Lane Tract" on the right (S) side of the road, just under 2 miles from Routes 9 & 113. . .
Click to Continue
Other Birding Sites in the Delaware Bay Coast Region: